Valcrep International is planning to market 3 different equipment based on the technology of the anti-oxidation and the anti-deterioration.
Even if you are a good sommelier, it would not be easy to serve wine with best condition with suitable temperature and air inclusion.
VinoLungo is a server which can keep 2 bottles of Wine, Sake, or others flesh for 4 weeks and serve any time you want , any volume you like.
To keep opened Wine or /and Sake for flesh for a long period, there are 3 important points to be satisfied.
(1) little as possible O2 and CO2 in the bottle
(2)stable low temperature without oscillation
(3)no contamination of bacteria and the growth inhibition
and to enjoy them deliciously, poured into a glass with
(1)suitable temperature by each variety
(2)air-containing
VinoLungo satisfy all of them.
2.  Anti-oxidant food box foodLungo(under development)  

Keep foods fresh as harvested by purity Nitrogen gas.
3.  Anti-oxidant medical storage box
To extend the lifecycle of the organs for transplantation minimizing cell destruction.
The latest news
VinoLungo used for demo. for Sales 

1unit

Introduced VinoLungo for 8min. in the popular TV program

Exhibited VinoLungo at

Wine & Gourmet Japan 2018
Introduced VinoLungo at Chinese TV program of 中国中央電視台
Introduced Miyabi and VinoLungo at Wine Kingdom Vol 105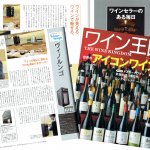 Introduced French family with VinoLungo at Winart No.90